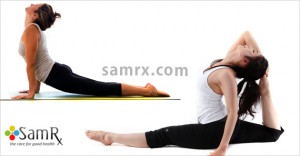 Yoga is a universal approach for maintaining a healthy lifestyle both physically and mentally. Through regular Yoga, you might experience long-term healthy changes in your body. Along with physical health, Yoga helps to rejuvenate your mind, body and soul.
Physiologically, menstruation is a periodical cycle in woman. Many a times, it can be painful and causes lower back pain, vomiting, dizziness, headache, constipation and fatigue. Severe pain during menstruation is clinically called as Dysmenorrhea. According to researchers, menstrual cramps often occur in adolescent girls and gradually reduce after ageing. Unhealthy habits and lack of exercise can aggravate the pain in abdomen and back during menstruation. To prevent such condition, you can start follow a healthy lifestyle by eating well-balanced diet and regular physical activity.
One of the most effective and best ways to prevent menstrual cramps is to practice Yoga, a type of physical activity. Yoga is a natural method to get rid of your menstrual cramps without any kind of side effects.
Yoga and Menstrual Cramp –
Majority of the women experience abdominal pain and backache on the commencement of and during menses. They try various methods and medications to eradicate such discomfort, but Yoga is one of the best amongst them. Women should regularly practice Yoga not only to get rid of menstrual cramps but also to stay fit and healthy. It also reduces stress, depression and other psychological issues.
Yoga is an alternative method of treatment that help overcome various diseases. With regular Yoga, your overall blood circulation is greatly improved, which allows every organ of your body to receive adequate amount of blood for optimal function, including reproductive system. The female reproductive system is supplied with enough blood to function properly; thereby, preventing menstrual cramps.
6 Yoga Poses for Menstrual Disorder –
Do you experience pain during menstrual period? If yes, then here are few Yoga poses to manage your pain –
Bow pose (Dhanurasana) – When your body is in this pose, it looks like a bow; it is one of the best postures to get rid of menstrual discomfort and fatigue.
Cat Pose (Bidalasana) – This pose helps in movement from the center and co-ordinates with your breath. Women suffering from back pain should avoid this pose. It tones and relaxes the abdomen and spine.
Camel pose (Ustrasana) – Camel pose is a good posture for stretching your spine, shoulders, back muscles. It improves flexibility, helps to reduce lower back pain and mobilizes the vertebrae.
Cobra pose ( Bhujangasana) –  Cobra pose improves flexibility in your spine and makes your muscles in arm and back stronger; it also cures menstrual irregularities and is good for blood circulation and resting your back.
Fish pose (Matsyasana) – This pose helps you to relieve pain in the neck, shoulders and improves flexibility of your spine. It stretches your shoulder and neck, and helps to overcome stress.
Child pose (Balasana) – Child pose is good if you feel dizziness or fatigue during periods. It calms your mind and helps to ease stress and anxiety.
Crocodile pose (Makarasana) – Holding this pose for few seconds helps to release stress in arms, legs, buttocks and reliefs indigestion and constipation.
There are many Yoga poses, which may help you to overcome abdominal and back pain during menses. Make sure you perform them under the supervision of a qualified Yoga teacher.
For thousands of years, Yoga is trusted in increasing flexibility, reducing your joint pain, cramps, lower back pain and abdominal bloating. Studies have proved that women who practice regular Yoga face less trouble during menstruation than those who do not practice.