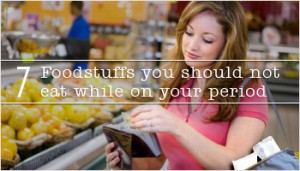 During menstruation, women shed blood from uterus. This physiological process can be troublesome, as majority of the females suffer from painful abdominal cramps and bloating, back pain, irritability and depression. These symptoms are usually experienced on commencement and during periods. A healthy diet rich in essential nutrients can minimize the intensity of these symptoms. Therefore, it is important to know what kind of stuffs should be avoided while menstruation.
If you want to avoid fatigue during your period, then you should be careful while selecting the foodstuffs during menses. You should know about certain foods which should be avoided during your period, to avoid unwanted aggravation of symptoms. If your symptoms of premenstrual syndrome (PMS) are severe or long lasting, then it is advisable to consult your physician for appropriate management. However, there is no cure for PMS, but one can minimize their complaints by eating healthy foods.
7 Foodstuffs you should not eat while on your period –
Processed foodstuffs:
Processed foods are easily available and many people consume them without knowing its effects. These foods can make you feel worse during your period. For example, chips and canned foods contain sodium that can aggravate your abdominal pain, discomfort and bloating. Select healthy snacks or wholesome foods, such as dry fruits or unsalted nuts.
Sugary foods:
If you want to stay healthy in general or during period, you should never consume unhealthy foodstuffs like cookies, candies, cakes, and other sugary foods. Sugary foodstuffs enhance your mood for a shorter period of time. During menstruation, sugar-based products aggravate menstrual cramps and sometimes you may experience excruciating pain. If you want to eat sugar, then try some sweet fruits like mango, melon, or peach.
Fatty foods:
Saturated and trans-fats that are found in meats and dairy products should be avoided. These fats worsen the inflammation and pain during your period. Therefore, it is highly recommended to avoid meats and dairy products during menstruation. Instead, eat lean meats, fish and beans that are rich in protein, they are also helpful in reducing pain.
Baked foods:
Baked foods are delicious, but they contain certain amounts of bad cholesterol that may elevate your estrogen level. These foods may cause pain in your abdomen, when you are menstruating. It is advisable to avoid baked foodstuffs, and stick to foods rich in dietary fibers like whole-grain bread.
Cheese and ice-cream:
Diary foods such as cheese, cream and ice-cream contain bad fats similar to fatty meats. It is highly recommended to avoid ice-cream and cheese during menstruation. Also, one should avoid adding cheese or creams to the dishes while cooking.
Caffeinated beverages:
Caffeine is a stimulant that aggravates abdominal cramps, if taken during period. One may suffer from irregular menstruation, mood swings and sleep disorders due to excessive intake of caffeine. Therefore, it is recommended to avoid coffee and energy drinks during menstruation. Instead, you can go for teas, though many teas also contain caffeine, but in lesser quantities than coffee.
Alcohol:
Consumption of alcohol during PMS worsens your symptoms and you may also suffer from depression or mood swings. Alcohol acts as a blood thinner or vasodilator that increases the blood flow, which may aggravate the discomfort. It is recommended to have tea instead of consuming alcohol beverages.
Majority of the women experience pain and discomfort during their menstrual period. If you are one of them, then avoiding the above-mentioned foods is the perfect solution for you. One can consume foods such as iron-fortified wholegrain cereal, brown rice, yoghurt, lentils, oysters or salmon during menstruation. If your PMS symptoms aggravate during your period, you should consult your physician to rule out or detect any menstrual irregularities or female reproductive disorders.