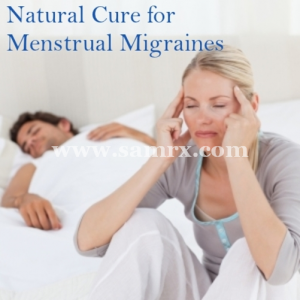 Many factors cause headache both in men and women, which include family history as well as age. However, women have a strong tendency to suffer from headache and hormonal changes. Though, there are various medications that give you temporary relief. This article will explain you few natural cure for menstrual migraines that can you give you permanent relief without any side effects.
Migraines are often severe and sometimes associated with other health disorders, such as vomiting and sensitivity to light. Women may experience a natural link between menstruation and headache due to the fall of estrogen level in the body. The secretion of progesterone and estrogen plays a great role in regulating the menstruation. Any imbalance in these hormones can lead to chronic headache or menstrual migraine. Though, treating this headache can be difficult, as certain medicines are not suitable for everyone. Natural Cures for migraines is permanent as well as inexpensive treatment that can help you relieve the pain without any side effects.
What causes hormonal migraines?
Headaches, especially migraines, are more common in women compared to men. It is due to fluctuation of estrogen (female hormone) during menstrual cycle. More often, estrogen level drops down before the menstruation flow starts. Generally, premenstrual headaches occur during or after the fall of progesterone and estrogen levels in the body. According to medical research, contraceptive pills or certain hormone-replacing therapies during menopause can activate migraines in few women.
Here are few natural cures for treating menstrual migraines –
Give some good head massage
Place your hands on the forehead, rotate your thumb and fore finger in a circular motion, continue this head massage for few minutes. Repeat this technique frequently till you get relief from the pain, and it is one of the best relaxation methods. According to acupressure experts, the fleshy area in the forehead is connected to the brain where headaches develop.
Some oils like peppermint, eucalyptus, rosemary and lavender are few of the best home remedies. Using few drops of these essential oils for massaging your forehead can work as good therapy.
Try drinking a cup of coffee
Caffeine present in coffee helps to reduce the swelling in blood vessel, and thus help to relieve headache. This is the reason why caffeine is considered as a pain killer in treating migraine. But ensure that you do not take excess level of caffeine, as it may produce unwanted symptoms.
If you are experiencing severe migraine due to menstrual cycle, then natural herbs like ginger and feverfew can be of good help. These herbs ease the overall body pain during menstruation, especially headache. Feverfew, considered as the most beneficial natural herb for migraine, is quite safe, but avoid overusing. Another herb that help menstrual migraines is ginger that can be easily taken, as it does not lead to any side effects, and along with headache, it also helps in treating nausea.
Due to severe blood loss during menstrual cycle some women become anemic (deficiency of hemoglobin). Certain juices like carrot, beetroot, grape or spinach are considered to increase the hemoglobin level and treat the migraine pain naturally without any adverse effects.
Stay away from certain foods
Avoid consuming alcohol or tobacco products, as they can aggravate the migraine more, particularly during menstruation cycle. You should also avoid citrus fruits, packed foods and chocolates.
Yoga is one of the best natural ways to keep you stay fit and healthy. There are few yoga exercises that help you to get rid of menstrual migraine. Meditation is a good method to overcome this condition as well.
Women come across many biological changes in every phase of their life, both physically and psychologically, due to the fluctuation of sexual hormones. The menstrual migraine can be quite annoying that often affects your daily activities. You can easily overcome this problem by following the above-mentioned natural treatments.