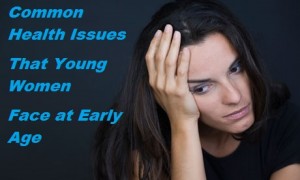 In today's era, many health issues are inevitable, blame it on unhealthy lifestyle choices, genetic predisposition, decreased immunity or environmental pollution. People are vulnerable to numerous health problems, and majority of them are not aware of the fact that they are actually suffering from a particular disease. Let us check out some health issues that young women face at an early age.
Today, we are living in a fast-paced world where we are prone to various diseases. We live in an era of hectic schedule, job stress, financial burden and other factors that deteriorate our physical and mental health. Health crisis is what everybody is experiencing in this industrial world. Medical issues hamper not only physical well-being but also mental health. There are certain diseases men and women face at some point of time in their life.
Listed are few common health issue that young women face at a very early age i.e. after puberty and before marriage –
In women, anemia is one of the most common health issues. In this condition, the blood-hemoglobin level is low and the red blood cell (RBC) production is not up to the mark. It is mainly caused by poor dietary habits and menstrual irregularities. Women bleed during menstruation and excessive bleeding can bring down the levels hemoglobin. Women can restore their hemoglobin levels by eating foods rich in iron, and by using iron supplements to combat anemia. The symptoms of anemia are easy fatigue, tiredness, generalized weakness, paleness of skin, breathlessness on slightest exertion, frequent headaches, dry and chapped lips, dull looking face, dizziness and unusual heartbeats.
Vitamin D is an essential nutrient for women, as it plays an important role in maintaining overall physical, bone and mental health. Vitamin D helps absorb calcium from the diet we eat, keep bones and muscles strong, and boost immunity. Vitamin D deficiency can lead to body aches, cervical and lumbar spondylitis, and inability to conceive. Therefore, vitamin D is very essential for women. Eggs, milk products and early morning sunrays are good source of vitamin D.
Osteoporosis is a bone condition, in which a female loses bone mineral density due to hormonal imbalance. Factually, this health issue occurs in elder women after menopause. But due to various reasons, it is also seen in younger females after puberty. Body ache, generalized weakness, pain in back, neck and joints are common signs and symptoms of osteoporosis. Women can eat foods rich in calcium to enhance their bone mass density.
There are innumerable reasons why women suffer from depression, such as job stress, familial tensions, relationship or marital issues, premenstrual syndrome (PMS), etc. Apart from these, women undergo certain hormonal changes before, during and after menstruation, which are responsible for mood changes, anxiety and depression. Prolonged depression can hinder the normal biological process of the body, causing sudden loss or gain of weight, loss of appetite or canine hunger, sleeping disorders, hysterical behavior, etc. in few cases, women may develop suicidal tendencies. You can beat depression by expressing yourself with loved ones, being optimistic, and practicing Yoga and meditation.
Premenstrual Syndrome (PMS)
PMS is a very, very common health issue faced by females just before or during menstruation. In PMS, women experience muscle cramps, abdominal bloating, mood changes, body ache, acne and depression. It usually subsides; if the symptoms trouble you, take the help of a medical professional.
The risk of breast and/or cervical cancer is high in women who follow unhealthy lifestyle, such as poor eating habits, lack of exercise, alcohol consumption, smoking, illicit use of drug and stressful routine. Females, after attaining puberty, are sexually active and are vulnerable to unprotected and poor hygienic sexual activity, which can lead to cervical cancer.
These are few common health issues females suffer at an early age or after attaining climacteric age. They can avoid these medical issues by practicing healthy lifestyle, such as healthy eating, regular exercising, maintaining normal body mass index and regular medical screening tests.