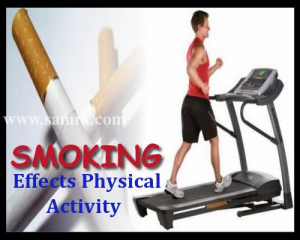 If you are a chronic smoker and unable to reap the benefits of exercise, then you should blame yourself for smoking. Smoking is responsible for innumerable health hazards. Prolonged smoking causes long-standing effects on physical activity or exercise.
Even after practicing regular exercise if you feel weak and drowsy, then you need to stop your unhealthy habit – Smoking. Cigarette smoking has immediate, negative and chronic effects on physical activity or exercise. We are all aware of the fact that smoking increases the risk of few life-threatening diseases, such as cardiac disease, respiratory illnesses, cancer and other medical conditions. Similarly, smokers have poorer physical performance and less endurance, and they are susceptible to inflammation.
Why smokers are weak than non-smokers?
To enhance your endurance and strength, your muscles, heart and lungs need sufficient amount of oxygen-rich blood. No doubt, you achieve it simply by performing mild to moderate aerobic exercises. But when you inhale cigarette smoke, you are allowing numerous carcinogens to enter in your system, which adheres to red blood cells (RBCs), thereby displacing oxygen with harmful chemicals in the muscles, heart and lungs. Eventually, the lactic acid-content of your body increases, which causes fatigue, burning sensation and soreness after physical activity.
Decrease in oxygen level will significantly reduce your endurance, making you struggle to perform physical activities or daily chores. You may also feel breathless just by walking upstairs. Lack of oxygen increases the resting heart rate, as the heart need to pump more blood and oxygen to other parts of the body.
Health hazards of smoking on physical ability
Studies have revealed that smokers have less physical endurance; therefore, they easily get exhausted than non-smokers. They can walk or run as fast or as far as non-smokers. In addition, they were reported with following issues
Achieve less benefit from exercises
Have less muscle strength, mobility and flexibility
Have sleeping troubles
Suffer from breathlessness three times than non-smokers
Vulnerable to injury and inflammation
Have delayed healing process
Smoking not only inflames the lung tissue, but also affects bones and joints, thereby increasing the risk of following medical problem
Osteoporosis
Rheumatoid arthritis
Low backache
Bursitis and tendinitis
Sprains and easy fractures
Surgical complications
Smoking and obesity
Some smokers refuse to cease smoking while following weight loss plan. Smoking directly affects the rate of metabolism and people who smoke chronically consume approximately 500 calories each day. Studies have shown that fat deposition in smokers is more, which is accumulated in abdomen. Therefore, it is necessary to eat well and exercise to maintain healthy weight; of course, you need to stop smoking as well.
Young adults who smoke are susceptible to suffer from negative effects of smoking. In fact, they are inviting chronic medical disease at a very early age. They not only have low physical performance and endurance, but also experience breathlessness, infections, injuries and weaker immune system. Younger people who smoke gradually impair their lung and heart function. Therefore, cough, gasping, fatigue and severe respiratory infections are common symptoms in smokers.
Fortunately, people can stay away from these health effects simply by quitting or avoiding smoking. If you face difficulty in quitting smoking, take help from your doctor or a counselor.