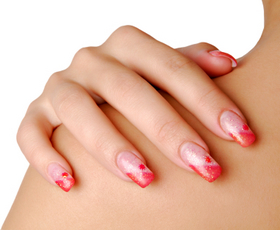 Natural and long nails really look sexy and classy as it completes your entire look. Sometimes growing the nails naturally becomes a great problem as it takes much your time. Here are the simple tips that can be followed so as to make your nails grow faster with the short span of time.
When are attending any function or going for date simply manicure doesn't help out in attracting your hands, but the long nails really do!! The perfect manicured long nails with shinny appearance speak lot about your style as well as personality. Whether the nails are round, oval or square they'll surely add flawless beauty to your personality. Have you ever noticed that the nails tend to grow faster during the winter season? Not only this, the nails of men grow faster than that of woman.
Here are the 5 simple home tips that can be followed so as to make your nails grow faster:-

Rub the slice of lemon: – Rub the slice of lemon on the edges of the nails daily for about five to seven minutes. This will really help in making your nails appear buffed and pinkish as well. Rinse your nails well with the water once you have done with the rubbing part.  Continue the same procedure for some days and you'll automatically find the result.
Consume the foods stuffs that contain gelatin: – The food stuffs like jelly or the one rich with the gelatin can be consumed. This helps in making the nail growth faster.
Apply Lavender oil and tea tree oil: – Lavender oil and tea tree oil helps in making the texture of the nails strong. They make your nails thick rather than making them brittle and easily breakable. They also facilitate the faster growth of the nails.
Manicure at home can be done on the regular basis: – manicuring can be done by simply dipping your palm into the mixture of Luke warm water and washing liquid. Apply moisturizer and coat your nails with the beautiful nail polish. Manicuring the nails on the regular basis help in making them strong and also stimulates faster growth. They'll surely help in making your nails appear stronger and alluring.
Avoid keeping the nails wet: –It is essential to clean your nails with water so as to keep them germ free and also to make them grow longer. But if you keep them wet for much time, they become weak and ultimately it breaks. So as to avoid this, do not keep your nails wet rather you can make use of plastic gloves when getting in contact with water.