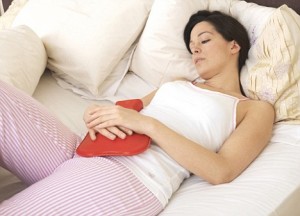 Women usually go through abdominal cramps while they are in the period of menstruation cycle. There are some natural ways to overcome this
You may be experiencing pain while you are in those days of monthly cycle. Sometimes this anguish can be bearable. But at other moments it can make you feel weak. You may not be able to take on the pangs in uterus. It is important to first know why such actions happen. We can get a clearer idea on how to deal with this then. You should be aware about complete process of menstruation.
Why do women get menstruation cycle?
During this time, a woman's eggs break in uterus. This time, she cannot conceive. The excess eggs break and they bleed out. It puts pressure on the lines of uterus too. The convulsions caused inside may or may not cause pain. A mild pain is common and genuine this moment. It should be much of a bother. But sometimes, you just cannot take the severity of it. It is then that you need an intervention.
It is a 28 days cycle. For some women it can be a 35 days cycle too. Women who do not get periods for a long time may have something wrong with their hormones and system. It is better to get a checkup done to know the real reason. In such cases, people who bleed after months and weeks after the real date can experience greater stomach cramps.
You should keep a close eye on your menstruation cycle dates. During pregnancy a woman stops bleeding till the child comes to the world. The baby nurtures inside womb and all nutrition is used up there. When you bleed a lot in periods, you may experience bad pain in your lower abdominal area, back, legs, calves and even breasts.
Menstruation pain and natural solutions
You should get ample of rest during periods. It is not good to get involved in hardcore physical activity this time. You should be able to comfort yourself and be happy. Stay away from sexual activity just in case there may be chances of infection. You can also reduce the pain by going for a mild body massage. Sometimes this may be of help. Warm water bath is advisable.
You should drink plenty of water. This will help the blood to flow out nicely. You can ease the pangs by drinking warm tea. You can also have warm milk and turmeric to deal with this. There are some more natural method like stretching regularly, mild flexing of muscles etc to get over the cramps. You can also help yourself to meditation. It can also allow you to sleep well.
You can also get yourself some antibiotics or painkillers. Always take them after seeking advice from doctor on prescription. You may even have some juicers and sweetener drinks. This will also be of a great help. Stay away from alcohol drinking and smoking. If you smoke and drink, ti can increase the pain.