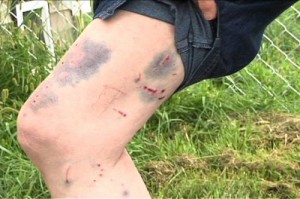 Are you among those who is infected with the animal bites then this is the suitable article for you to tackle with it
Animal bite infection usually caused by the domestic pets. Animal bites are more probably found in children who are fonder of pets. The major risk of infection occurs mainly due to cat bite than the dog bite. Other animal that creates infection after biting humans involves cats, rodents, squirrels, farm animals as well as marine animals. Biting of the wild animals increases the risk of rabies. Rabies is diseases that are commonly found in raccoons, bats, and foxes.
Among all animal, cats have the major risk of infections due to its sharp pointed teeth that warren the tissue of the humans. The most common infected area after animal bite appears swelling at the tip of finger. If your are coming through with the same infection here is most important steps that you can follow and give a wave to animal bite infection. It is very compulsory to know the symptoms of animal bite infection so that you can take precaution before experiencing the worse.
Symptoms of Infection
Step 1
A wide variety of microorganisms is occupied in the mouth of humans as well as animals. When a human body is exposed to bite by the animals, this bacteria enters the tissue and start to grow thus occurs infection. The hand and finger are the most common area that is exposed to the infection. This condition occurs due to the difficult genial and less deliver of blood to particular tissues. However, deeper the wound more will be the increase of the infection in humans.
Step2
Various type of infection may lead to various causes such as scratch or the bite on the surface may lead to cellulites or appearance of the infection on the outer surface of the skin. Depth of the animal bite can cause tendinitis, is an infection that causes tenderness on the finger. Osteomyelitis is a kind of infection that occurs in the human's bone. The severe signals of infection include redness, swelling, pus around the area of animal bite, loss of blood circulation due to swelling and increase the pain in the finger. Prevent the swelling with cleaning wound immediately with antiseptic liquid or wipe out with warm water cloth. The bleeding of the wound can be stop through pressurizing the wound for few minutes. You can apply an antiseptic ointment after cleaning the wound and cover it with the bacterial free bandage.
Step 3
One must shun the difficulties of the swelling in the finger. If the swelling doesn't reduce then he/she should visit to the doctor for the further treatment if necessary.