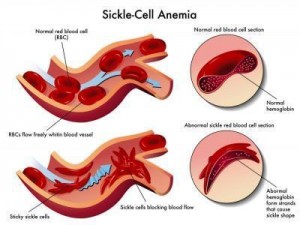 Anaemia is the genital condition that shows different forms and symptoms as well. The below given article give complete information about anemia and its types.
Anaemia is classified with different categories, usually in six types. It is the state where a person's body lacks the actual amount red blood cells that are necessary to keep up the body's demand for oxygen. However, understanding its warning signs and types of course can help in averting the anemia at its first place.
Sickle Cell Anaemia
This type of anaemia is a consequence of an unusual form of red blood cells. It is hereditary and life threatening problems that has no preventive measures.
Its warning signs include:-
Jaundice or yellowness in whites of the eyes
Painful attacks in stomach, legs and arms
Chronic exhaustion and fatigue
Fever
Paleness
Rapid heartbeat
Iron Deficiency Anaemia
Iron deficiency anaemia is a situation where there is minute iron level in bloodstream.  This sort of problems is more commonly noticed among the women before menopause and also among adolescents.  Donating too much of blood, bleeding internally from the gastrointestinal tract or heavy loss of bloods during the menstrual cycle can all contribute to this deficiency
Its warning signs include:-
Irritability
Headache
Paleness
Rapid heartbeat
Dyspnea
Brittle nails and hair
Polycythemia Vera
This illness is more common disease that is seen among middle aged man which is triggered by an increase in thrombocytes, leucocytes and red blood cells.  There is an extremely intense and fast reproduction of cells and also matures the bone marrow cells.  The actual cause is unknown.
Its warning signs include:-
Bloodshot eyes
Purplish colored skin
Enlarged spleen
Giddiness
Headache
Folic Acid Deficiency Anaemia
This type of anaemia is typified by a lack of folic acid in the bloodstream i.e. also recognized as one among the B group vitamins. It usually happens because of inadequate consumption of folic acid that is found in overcooking of some vegetables. Other blood disorder can also be the reason for this form of deficiency.
Its warning signs include:-
Irritability
Fatigue
Weakness
Memory lapses
Pernicious Anaemia
Lack of vitamin B12 in people between the age of fifties and sixties get affected to Pernicious anaemia. This disease can be autoimmune or at times hereditary.
Its warning signs include:-
Heart palpitations
Dyspnea
Fatigue
Tingling or lack of feeling in extremities
Aplastic Anaemia:-
The reduction or the absence of red blood cells causes aplastic anaemia. This can take place through the injury where the blood building tissue in the bone is smashed. Due to this, it becomes difficult for a person to fight against infection and possibly is a heavy bleeder.
Its warning signs include:-
Congestive heart failure
Purpura
Lethargy
Bleeding
Paleness
Infections
Rapid heartbeat
The symptoms and signs of anaemia may seem to be little overwhelming; but the fortunate thing is that most categories can be efficiently controlled with some dietary changes and medication.