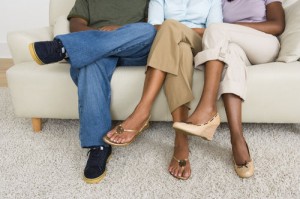 You must have seen people sitting with crossed-legs, or rather you personally must have noticed that you are sitting in that way. Mostly, people sit like that when they are having dinner, working at office, watching TV, etc. People who sit for longer time often sit crossed-leg to change their hips position, but little did they know that this habit is not good for the health. Let's find out why!
There are few demerits of sitting crossed legs, especially if you make it a habit and doing it for years. Medical experts claim that crossing your legs can create a bad impact on your health, especially the problems related to locomotor system that includes muscles, joints, tendons, cartilages and bones. Listed out are the four important reasons why one should not sit crossed-legs over the time:
1. Backache And Neck Pain
To be precise, a person should sit with both the feet planted on the floor, squarely. But the bad news is that this happens very rarely in today's world. Most of us tend to sit in awkward positions like sitting on one side or the other, crossing legs, and many other ways. These awkward sitting postures, including crossed legs, can bring on neck and back pain, according to renowned orthopedics and physical therapists. When a person sits crossed-legs, he/she rotates one of the pelvic bones, thereby sitting in a torque posture. Since the pelvis supports the spine, awkward position can put unwanted pressure on the backbones leading to neck and lower back pain. Prolonged sitting with crossed-legs can also lead to lumbar disc herniation.
2. Spider-veins
According to medical researchers, approximately 55% women and 45% men in U.S. suffer from spider-veins. It is a type of vascular disease in which the veins become smaller, purple and red. They also tend to turn and twist, which are visible through the skin. Researchers have claimed that prolonged sitting with crossed legs is linked to development of spider-veins. Crossing legs can put great pressure on the blood vessels, especially veins that are believed to bring back the blood towards heart for pumping. Pressure on veins impedes the blood flow and makes them weak and fragile; thereby, leading to spider-veins.
3. Pressurizes Nerves
Sitting crossed-legs not only creates bad impact on blood vessels, but also the puts pressure on important nerves of legs and feet. The spinal cord is distributed in left and right nerves at the pelvic region, which supply strength to lower extremities. Sciatica is one such condition that can occur in a person who sits with crossed-legs for longer duration. In this condition, the pain starts from either or both the hips and radiates to the legs and feet. Nerve pressure can also lead to tingling, numbness and temporary paresis (paralysis) in legs.
4. Augments Blood Pressure
You must be thinking how sitting crossed-legs can increase the blood pressure levels. Strange? But that's true! People who sit crossed legs for longer period of time on regular basis may develop temporary hypertension (high blood pressure). The blood in your lower extremities should go back to heart against gravity. Since, blood vessels are under immense pressure due to awkward sitting position; they fail to circulate the blood in proper manner; thereby, exerting the blood to flow forcefully, in order to reach the heart.
These aforementioned health issues could make you feel terrible. So, if you have a habit of sitting crossed legs, just keep these four reasons in your mind before even lifting your leg up to rest it on your knee. Medical experts also suggest people to ditch this habit of sitting. The best and safest way is never to sit crossed-legs in your life.